Often the biggest constraint to purchasing a boom lift is how the customer will move it after the purchase.  If you already own a heavy truck and trailer this isn't too important but for most people it's a big issue.  The most common request is for a lift that can be pulled behind a 1 ton dualie style pickup like a Ford F-350, Chevy 3500, or Ram 3500.  Only a few years ago this was difficult to impossible to accomplish legally.  The obvious choice for these customers was a Genie Z34/22IC (example below) or JLG 340AJ which are both 34 ft lifts.  These units weigh about 10,000 lbs each and at first glance they should be easy to move with a 1 ton truck equipped with a gooseneck style trailer.  The problem many times is not the overall weight but it can be hard to balance a lift correctly so that the truck or trailer isn't too heavy on an individual axle.  Over time this issue has gotten easier to deal with as the ratings on modern 1 ton trucks seem to rise every few years with the implementation of new powertrains, lightweight bodies, and engine braking technology.  With a newer 1 ton truck and proper trailer it is now relatively easy to move a 34 ft boom.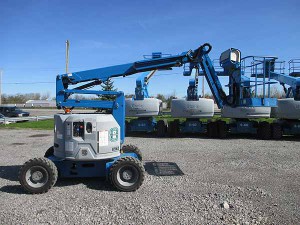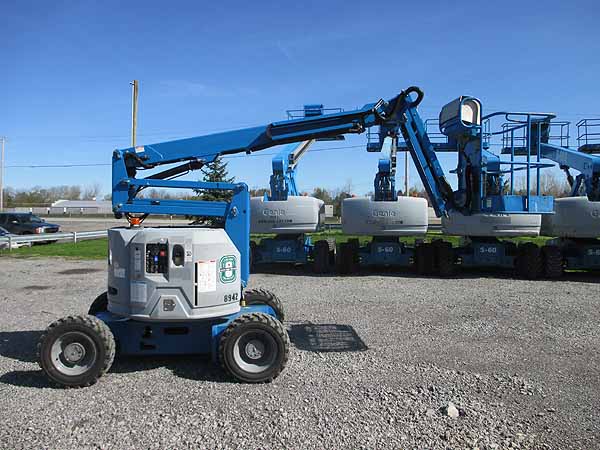 In reality most people would prefer a 40 or 45 ft boom.  The larger booms have more ground clearance, horsepower, larger platforms, and of course they are also taller.  All that and they tend to cost only marginally more when purchasing used.  With older pickup trucks it's usually not possible to haul these bigger lifts legally.  The larger machines are heavier but also tend to be worse in terms of balance which again leads to overweight per axle issues.  Luckily yet again newer trucks are beginning to save the day.  Trucks that are rated over 1 ton but still basically a pickup are becoming increasingly popular and if the owner is willing to get a CDL can be registered for impressive capacities.  It takes some planning and studying the combined truck/trailer combinations but it's no longer impossible to legally haul a 40 or 45 ft boom with the correct pickup truck.
Of course the other option is for a customer to purchase a towable lift.  This isn't a complete solution for most people though because towable lifts are often inefficient for larger jobs due to their small platforms, limited horizontal reach, and the time required to move them around a job site compared to a self propelled lift which can simply be driven.